As the leader in the industry, Botto-Solar Ltd has designed and developed one of the most cost effective non-electric hot water systems ever designed in Kenya. Botto Solar has developed the BS Mega Hot Water System Series, the outdoor boiler that shatters virtually every preconceived notion about emissions and efficiencies of wood heating. The BS Mega Hot Water Systems use a three-stage combustion process to burn wood so completely that combustion efficiencies approach 95%. The BS Mega Hot Water Systems produces extremely low emissions per Btu of heat delivered and is one of the cleanest ways to heat with wood. It can heat multiple buildings, domestic water, hotels, dairy plants, schools and more. Burning wood (a totally renewable resource) results in no net increase in carbon dioxide, a major greenhouse gas emission.
We can design the most complex hot water systems for hotels, residential houses, hospitals, schools, or any other place where hot water may be required. Botto-Solar Mega
Hot Water Systems are fueled by firewood, which is the cheapest fuel available in Kenya and East & Central Africa. Our Mega Hot Water Systems consume very little firewood
and can withstand heads of more than 200ft. We can replace all your numerous instant shower units and boilers with a single Mega 1000 Turbo System capable of heating 1000Ltrs of water in less than 60 Minutes consuming only 15 - 20Kgs of dry firewood. This is much faster than any electric boiler heating a quarter of the above
capacity.
Our Mega 500Ltrs system can heat 500Ltrs of water in only 30 minutes consuming only 6-8Kgs of dry firewood. This is adequate water for daily hot steaming showers for a flat of six families. The Combustion process in our Mega Hot Water Systems is so complete that instead of smoke, only hot air gases are emitted. For maximum thermal efficiency, all our hot water cylinders are insulated and covered with an external steel casing. This ensures hot water storage for 24 hours. With a saving of 50 – 70% compared with electric boilers, Our Mega Hot Water Systems are a total solution to all your hot water requirements.
They come in six(6) sizes; 200Lts, 300Lts, 500Lts, 750Lts, 1000Lts and 2000Lts.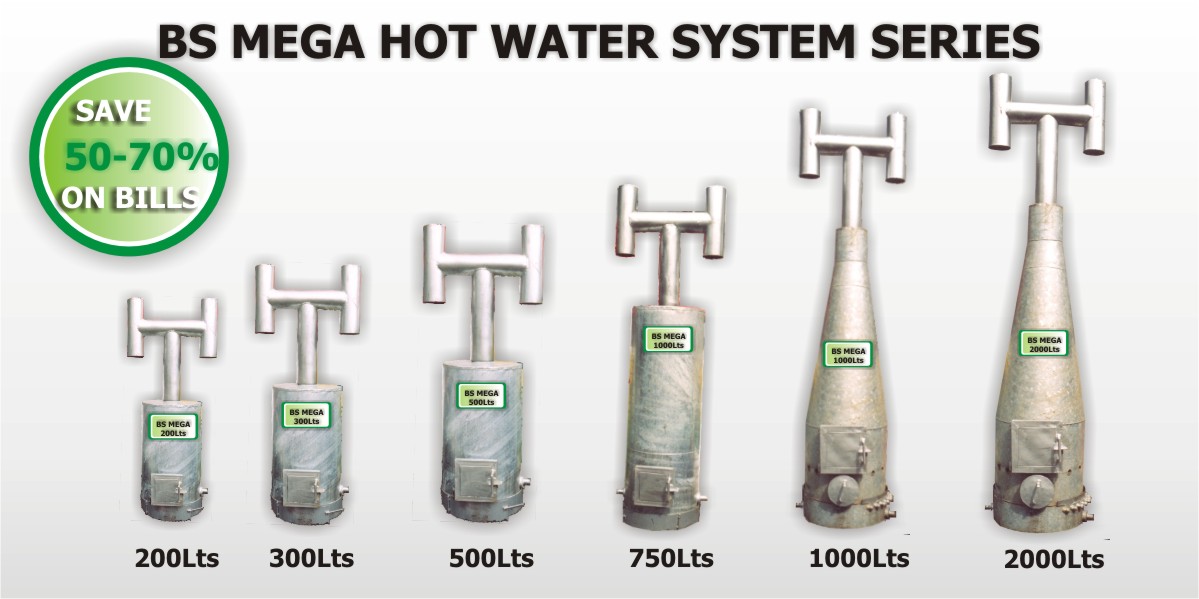 Here's why more people are buying the BS Mega high-efficiency Hot Water systems:
50 - 70% Guaranteed Savings compared with Elecric Boilers and Instant Shower Units.
Insulaiton on Hot Water Cylinders allows Hot Water Storage for 24 hours.
Clean Burning - The BS Mega Hot water system burns their fuel completely, leaving few particles to create smoke, creosote or ash.
Energy Efficient - BS Mega Hot water system approach 90 percent thermal efficiency. This means most of the heat released by burning wood is captured.
Economical. BS Mega Hot water systems reduce your overall heating costs. A study has shown that wood or biomass fuel can cut heating costs by up to 70 percent.
Environmentally Sound - BS Mega Hot water systems release no incremental emissions into the environment. Unlike fossil fuels, biomass fuels, such as wood, are a home grown and a fully renewable energy source.
Easy Maintenance - Since BS Mega Hot water systems are clean burning, they do not need to be cleaned as often as wood stoves or inefficient outdoor wood boilers.
Reliable Design - Wood Boilers built with Botto Solar's proven design have been in operation for many years and continue to provide reliable, low-cost heating for their owners.
Superior Quality - BS Mega Hot water systems are manufactured in a state-of-the-art facility where skilled craftsman follow strict quality assurance procedures. Our boilers are made with top-quality components and materials.
Doubles as an incenerator - The Mega Hot water Systems will burn anything combustible including waste papers, dry grass, wood cuttings etc.